Wear your acceptance of marriage equality.
Acceptance and belonging are at the heart of Airbnb. Which is why Airbnb Australia felt compelled to throw their support behind the LGBTQI community and the campaign for marriage equality. Marriage is a fundamental part of belonging so to help empower change and ensure all Australians have the right to marry the person they love we created, 'The Acceptance Ring'.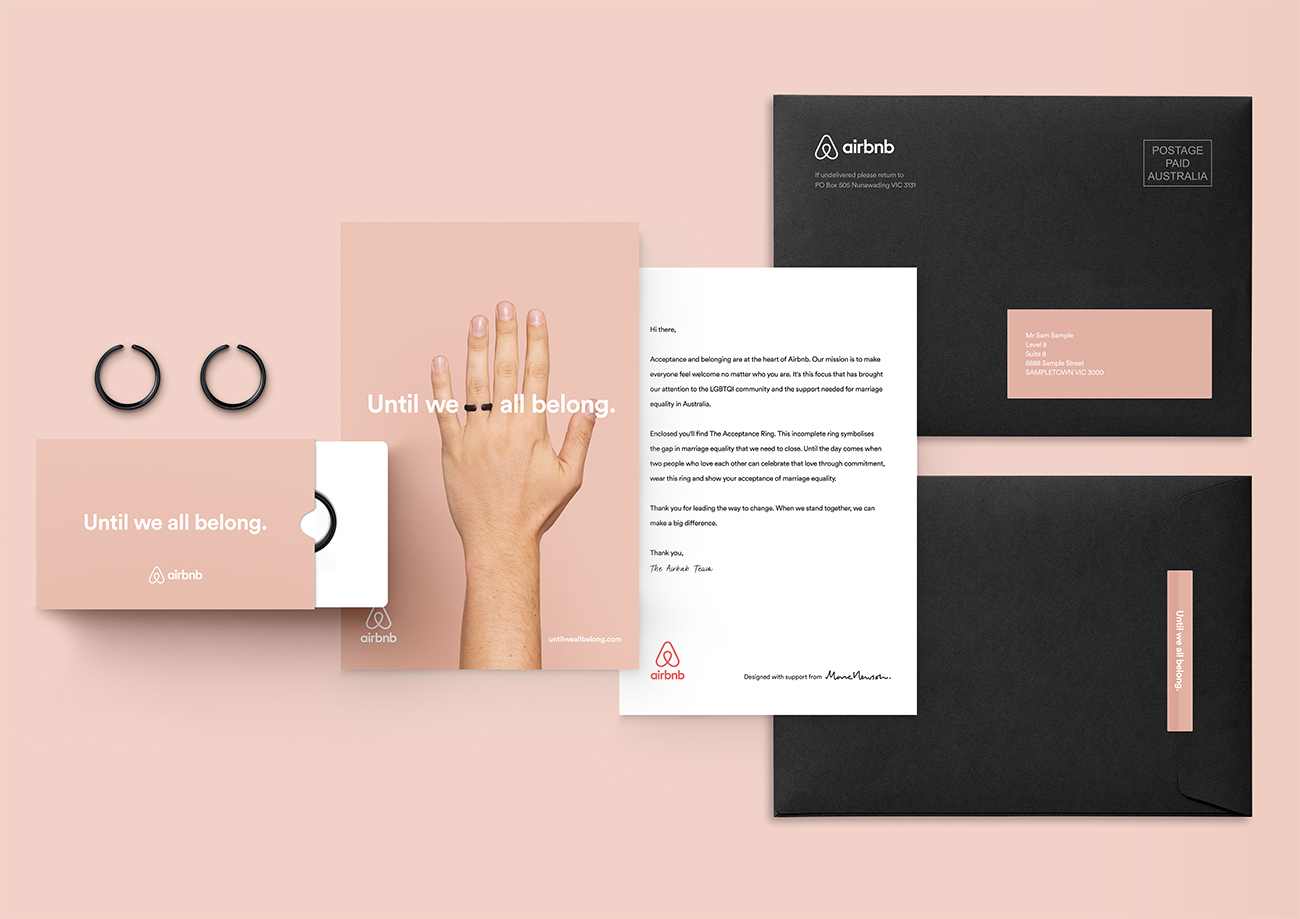 —
Created in collaboration with influential designer Marc Newson, this incomplete ring symbolised the gap in marriage equality that we needed to close. Until the day comes when two people who love each other can celebrate that love through commitment, we asked Australians to wear this ring and show their acceptance of marriage equality.
Stories of acceptance.
We used everyday Australians to champion the cause. This wasn't just a political issue, it was a human rights issue. So online we expanded the conversation from the LGBTQI community to the friends, family, colleagues and neighbours who's lives are equally affected by outdated marriage laws.
untilweallbelong.com
Online people could champion the cause by ordering a free Acceptance Ring or share a personalised message of solidarity for the LGBTQI community. Our hope was that both the ring and pledges would start conversations, be seen on the streets, online and work as ongoing reminders of the current inequality of marriage.
—
A unique pledge tool let users select a hand and customize their own Until we all belong message. Dynamic social share tiles were then automatically generated with thousands of these shared across Facebook, Instagram and Twitter within days of launch.
—
A prominent feature in Marie Claire magazine and influencer outreach followed, with not just the general public championing the cause but many known Australian personalities including actresses Jessica Marais and Asher Keddie, model Gemma Ward, media presenter Waleed Aly, AFL star Adam Goodes, and visiting musician and The Voice judge Kelly Rowland.
Corporate Australia wears its heart on its finger.
The campaign was supported with outdoor, press & radio featuring real people pledging support for somebody directly affected by the current legislation. This was aided by one of the most corporate declarations for equality in Australian history with public backing by some of Australias biggest brands including Qantas, ANZ, Google, Foxtel, eBay and more.
An enduring symbol of belonging.
Within days of launch there was an unbelievable showing of support with the initial run of rings selling out. In fact, demand was so high we had to stagger upcoming supply as the pre-order email list was inundated. In the ongoing push for equality the rings become an enduring symbol of belonging for the LGBTQI community, and for Airbnb it was a way to not just talk about purpose, but live by it.
The one house where acceptance means everything.
When federal parliament resumed in the nations capital we targeted jetsetting politicians by plastering all the major airport terminals with our message. We even sent rings to political journalists and politicians at Parliament House - some choosing to wear them in the first sitting of Parliament. Until We All Belong sent a powerful signal that the need for marriage equality will continue to grow in size and determination until the law changes to reflect the will of the Australian people.